Here I will tell some base knowledge about what GoPro cameras have now. Where you can buy this camera in Bangkok, and how much is cost.
Now in June 2015 have 3 latest cameras GoPro, models of 2014: Hero, Hero4 Silver Edition, Hero4 Black Edition.
Hero have only one plus – is price, compared to another GoPro cameras. Anyway, I think is not good choice in any situation. If you have money for Hero, better see Xiaomi Yi camera, is will cheaper and better.
Hero4 Silver Edition – is very good choice. Is have not bad quality in low light, built-in touch screen, WiFi and Bluetooth. Can record almost 90 minutes video from one battery charge.
Hero4 Black Edition – this is top quality camera, what can record 4K video with 30fps, 1080p 120fps, 720p  240fps. Is have built-in WiFi and Bluetooth but not have Screen from back same Silver version. Time of work from one battery charge – 60 minutes.
Before came to Thai, I heard about in this country very good prices for buy. But when I start see real prices here, and compare it with Ukrainian price, is make me very upset.
In Thai some shops can give documents Vat-Refund, what allow you return 7% of price thing in airport when you leave Thailand. But anyway, as you can see price is expensive.
Official prices for GoPro in Thailand now:
GoPro Hero 4,990 Baht [167$] (After Vat-Refund 4,641 Baht [155$])
GoPro Hero4 Silver Edition 14,800 Baht [494$] (After Vat-Refund 13,764 Baht [459$])
GoPro Hero 4 Black Edition 18,500 Baht [617$] (After Vat-Refund 17,205 Baht [574$])
1$ = 30 Baht
In internet you can find cheaper prices, but I read about better go buy electronic in Pantip Plaza.
But before Pantip we go visit Mega Banga – shop about what I read have many touristic equipments and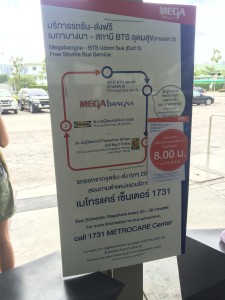 some shops with cameras. For go to Mega Banga you need arrive BTS Udom Suk (Exit 5), from this station you can use free shuttle bus what will bring you to Mega Banga.
Shop is big but inside all standard, have big shop IKEA, and many shops with different brands. Shops with touristic equipment sell many different equipment. What make me surprised is have many equipment for golf, in Ukraine I never saw any equipment of this type.
Shops with photo equipment ordinary have different names, but look same inside. Prices so big, so even not interesting to see what shop sell. GoPro prices everywhere was same as I wrote before. Only one shop have discount to GoPro Hero4 Silver Edition and sold it with price 13,900 Baht [464$].

Next we going to Pantip Plaza. For going to this shop, if you not afraid walking 15 minutes, you can go from BTS Ratchathewi. This video show full way:
I think we arrived Pantip Plaza very late, because many shops was already closed, and another start closing when we walking. I asked price toGoPro Hero4 Black Edition, and was surprised about answer. Only one shop on last 5 floor had same price as I said official. Another shops had 2 prices: 15,900 Baht [530$] with official guarantee, or 16,400 Baht [547$] with guarantee from Shop… I don't know why have same price and why official guarantee cost cheaper. Also one bad things, if you will pay with Visa card, Shop add to price 2% of value.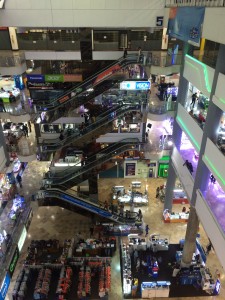 Anyway I bought my GoPro in shop what have name La-ox (3 floor), it is interesting shop with many professional photo and video equipment. Sad about shops not give any discounts, if ask Vat-Refund, all shops answer same: For get Vat-Refund you can buy GoPro for 18,500 Baht.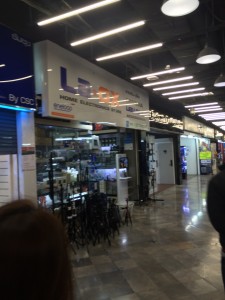 First I didn't want buy MicroSDCard in Pantip, because I like brand SanDisk, and I know is have many fake cards. But I get suggestion about shop "J.I.B. Computer" and I bought MicroSDCard Sandisk Extreme 64Gb for 1,850 Baht [62$]. After checking I can say card work good with recording 4K video 30fps, so is must be original.