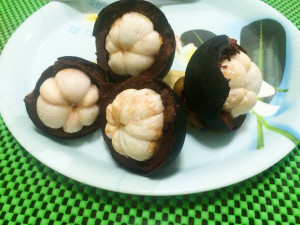 We stay in Nonthaburi, it is a district near Bangkok.
In Kyiv ordinary many walking, and after arrive Nonthaburi we going to supermarket near our apartment. It was very interesting experience. Road what we saw created for cars and any another transports, but not for people who walking. Sidewalks have bad conditions, very little, and wires on poles is just something amazing. I will tell more later about this.
We didn't want buy many in shop, because as we know on market prices is cheaper, so we choice some base products and bought mangosteen for test.
I never tried it before, and I like it. Inside, after clear shell is look same garlic. When you eat this, is sweet and juicy, have few seeds.